Xtreme Stage 2 Heavy Duty Cushioned Ceramic Clutch Fits Nissan Skyline R33 GTST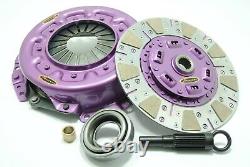 See all items in our shop. Specialising in used fits nissan Parts for a wide variety of Nissans, including the Skylines, GTR and 200sx/Silvias. Xteme Stage 2 - Heavy Duty Cushioned Ceramic Kit That Fits Nissan Skyline R33 GTST. Xtreme are a nationally recognised leader in the production and supply of high-performance clutch systems and components. With over 2200 performance clutch kits in both single and multi-plate formats, Xtreme can cater for the needs of high horsepower street, drag, drift and race applications.
Also available are ultra-light, high-performance flywheels in aluminium, chrome-moly and billet-steel for many vehicle makes and models. Please see below a table for ratings. Primarily designed for high performance road-going vehicle, Xtreme Clutch Stage 1 clutch kits deliver substantial increases in perfomance and power holding capabilites whilst retaining ease of drivability.
These kits include an organic friction disc with rogid or sprung options available. XTreme Clutch utilises the latest ceramic technology in their Stage 2 perfomance kits. The kits are availavle in either a cushioned (DCB) or a sprung (DSB) style button friction disc. Mated to a high performance pressure plate, the stage 2 clutch is for road and track vehicle requring a higher level of power holding capability.
Recommended for: Street & Track. The ceramic race series is a single plate race-only clutch. Available for a wide variety of vehicles, the Stage 2 R series clutch provides a higher torque capacity and heat capacity over the stage 2 equivalents. Used by some of the most powerful time attack and drift cars in the world, the Xtreme CLutch single plate carbon clutch provides exceptional heat capacity for hight horsepower vehicle.
Recommended for: Extreme power applications that require good modulation. The Xtreme Carbon Multi clutch was developed for extreme horsepower cars that require good modulation characteristics. Designed for high powered circuit, time attack or gymkhana applications, the Xtreme 184mm Race Clutch offers quick shift times and a lightweight construction. The Xtreme 200mm Rigid Race Clutch is designed for motorsport applications including drifting, circuit racing, rally and hillclimbing. The Xtreme 200mm Sprung Race Clutch is designed for street and track use offering exceptional performance in a variety of applications. The Xtreme Clutch 230mm Race Clutch is available with either ceramic or carbon friction materials, making these kits ideal for high horsepower and motorsport applications where a high heat capacity is required. 230mm & 250mm Organic Motorsport Kits. The Xtreme Clutch 230mm & 250mm twin plate organic clutch kit offers high torque capacity whilst retaining driveability on the street.
The Xtreme Clutch 270mm organic twin plate is designed for high horsepower street and track vehicles, offering improved driveability on the street in comparison to the ceramic equivalents. Xtreme Chromoly Flywheels are explosion-proof and have been SFI tested and approved.
Xtreme flywheels come with integral ring gear and timing sensor ring as required by the application. Xtreme Chromoly Lightweight Flywheels carry full SFI safety approval whilst offering an extremely light flywheel solution for a variety of applications.
Xtreme Chromoly Lightweight flywheels are designed for race use where it is critical to minimise rotational inertia. This does not include Channel Islands, Northern Ireland and Scottish Highlands. You will be required to sign for your parcel when it is delivered. What can I do if the item I've received is not as described or damaged?
When will you post my item? When will I receive my item? You should receive your item within 1 - 2 days of dispatch.