Xtreme Heavy Duty Clutch 2ZZ-GE Toyota Celica, Lotus Elise / Exige KTY22014-1R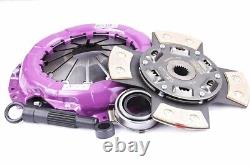 Xtreme Heavy Duty Clutch 2ZZ-GE Toyota Celica, Lotus Elise / Exige KTY22014-1R. TCB Performance Parts Limited are proud to offer this product. Xtreme Performance - Extra Heavy Duty Sprung Ceramic/-1R (KTY22014-1R). 1R kits feature a sprung ceramic friction disc, but with even greater clamping force pressure plate for higher torque capacity.
These kits are designed specifically for motorsport applications such as circuit, rally, drifting and drag racing. Clamp load Increased over standard. Extra Heavy Duty Pressure Plate.
Kit contains everything you need for a successful installation + accessories. The sprung ceramic range of kits have been developed for motorsport applications where a higher heat and torque capacity is required. These discs utilise a sprung hub that helps to reduce shock loading and are commonly used in track cars that retain the factory transmission. Here at TCB Performance Parts LTD, we've specialized in stocking only the best quality new, used, pattern and now Performance parts for over 30 years. We've faithfully served the Celica, Supra and MR2 community during this time, we're widely known and used through all of the owners clubs as ones of THE places to call first for all of your Celica, Supra or Mr2 needs! All of our pattern parts are comparable with their OE equivalent and unless the quality measures up we won't stock it. We have a huge range of Used, New (Genuine Toyota and Pattern) and also reconditioned parts.
New for 2017 / 2018 / 2019 we've now expanded into full performance lines now further expanding our range and making ourselves a true one stop shop with new lines being added constantly! If we don't stock a specific part that you're looking for then please let us know and we'll do our best to find it for you. Thank you for your time reading this listing and we hope to hear from you. Paul (TCB Performance Parts LTD).
All Parts Listed As In Stock Will Be Dispatched The Same Day If Ordered Before 2PM In Rare Cases Orders May Be Delayed Due To Work Load On That Day But You Will Be Informed In This Case. Here At TCB Performance Parts Limited we're one of the UK's leading specialists in Second Hand, New Genuine / Pattern and Performance Parts. For Toyota Celica's, Supra's and MR2's and Have Been For Over 27 Years.
We Have An Ever Expanding Stock Of Parts And Are Well Known Worldwide as THE Place To Contact For All Parts Requirements. We Are Now Also Expanding Into Multiple Other Makes And Models So We're Able To Assist With Anything You Require! Sign up to our newsletter for special deals.