STAGE 3 HEAVY DUTY Clutch Kit for Nissan 180SX S13 SR20DET Turbo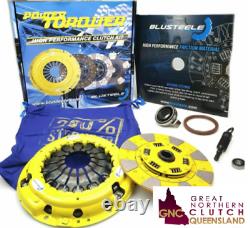 Welcome to Great Northern Clutch Queensland. STAGE 3 HEAVY DUTY Clutch Kit for Nissan 180SX S13 SR20DET Turbo. STAGE 3 POWER TORQUER CUSHION BUTTON SPRUNG PLATE.
Nissan 180SX S13 SR20DET Turbo. Torque Capacity - 585NM peak torque.
Power Torquer Stage 3 Pressure Plate - Nci Iron. Power Torquer Stage 3 Cushion button clutch plate. Please Send through you VIN number for an accurate check on you Vehicles clutch kit, their may be several types that can fit your vehicle. BLUSTEELE POWER TORQUER STAGE 3 CLUTCH KITS FEATURE A CUSHION BUTTON CLUTCH PLATE WITH DAMPENING FOR GREATLY IMPROVED TORQUE CAPACITY; DESIGNED FOR A MIX OF STREET AND HIGH PERFORMANCE USE, THEY ARE MUCH MORE DRIVABLE ON THE STREET THAN THE STAGE 4 CERAMIC BUTTON CLUTCH KIT. THEREFORE DRIVEABILITY IS COMPROMISED TO ENABLE ON TRACK PERFORMANCE. Please note - all pictures and photos are for illustration purpose only. The item you receive may look different and or not have what is pictured. We are an independent clutch kit and flywheel specialist store. Our team can help you choose the correct clutch kit and or flywheel to suit your specific application. Please send us your Registration details and or VIN number. We sell all the major clutch brands including Exedy, Blusteele, Mantic & Xtreme. Whether it be you daily driver, track car or bush trekker, please let us help you find the right clutch kit for you. We are also hoping to soon have a warehouse in North Queensland to help our valued customers get faster service. We fully understand that mistakes happen and you may need to return you clutch kit for on reason o another.
Join Our Exclusive Newsletter For Up To Date News, Special Offers And New Arrivals. 4 x 4 Clutch Kits. Get in touch with us.
Great Northern Clutch Archerfield, Queensland 4108. Listing and template services provided by inkFrog.