HEAVY DUTY Survivor Clutch Kit for MITSUBISHI TRITON MK 2.8 Ltr Diesel 4M40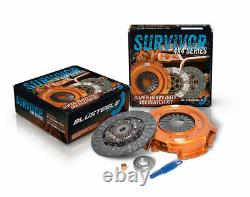 Welcome to Great Northern Clutch Queensland. HEAVY DUTY Survivor Clutch Kit for MITSUBISHI TRITON MK 2.8 Ltr Diesel 4M40. Survivor Heavy Duty Clutch Kit Includes. Survivor NCi iron Clutch Cover. Survivor 4X4 HD Organic Clutch Plate.
Brand: Blusteele - Survivor 4X4 Heavy Duty Clutch kit. Designed specifically for the demanding needs of Australian 4x4 enthusiasts.
Blusteele's Flagship product, the Survivor series is a premium quality 4x4 heavy duty clutch kit. Manufactured using only the best quality materials, the Survivor Series is your best choice for off road driving as well as constant towing. NCi iron pressure plate - Nodular Cast Iron which is 300% stronger, unlike grey iron which most pressure plates are made. Premium Organic clutch plate, perfect for feathering whilst off road. Superior grip and bite through improved pivot points on the clutch diaphragm. We are an independent clutch kit and flywheel specialist store. Our team can help you choose the correct clutch kit and or flywheel to suit your specific application. Please send us your Registration details and or VIN number. We sell all the major clutch brands including Exedy, Blusteele, Mantic & Xtreme. Whether it be you daily driver, track car or bush trekker, please let us help you find the right clutch kit for you. We are also hoping to soon have a warehouse in North Queensland to help our valued customers get faster service. We fully understand that mistakes happen and you may need to return you clutch kit for on reason o another. Join Our Exclusive Newsletter For Up To Date News, Special Offers And New Arrivals. 4 x 4 Clutch Kits. Get in touch with us.
Great Northern Clutch Archerfield, Queensland 4108. Listing and template services provided by inkFrog.