BLUSTEELE Heavy Duty Clutch Kit & lightened flywheel for Mazda Rx8, Renesis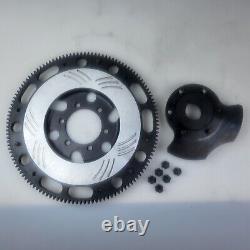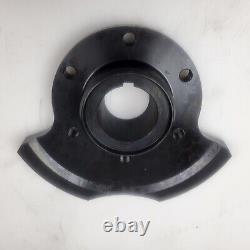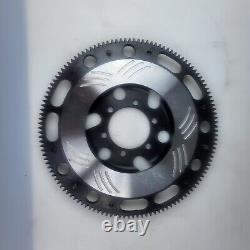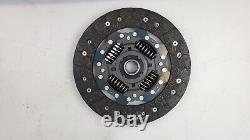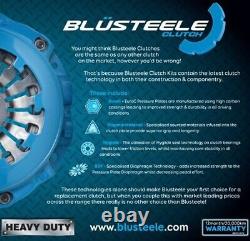 BLUSTEELE Heavy Duty Clutch Kit & lightened flywheel for Mazda Rx8, Renesis. HEAVY DUTY Stage 1 Clutch Kit and Lightened Flywheel. Anodized Lightweight billet chromoly flywheel, with counter weight. The two-door Mazda RX-8 coupe holds a special place in the history of the small Japanese company. Powered by a 1.3-litre Wankel rotary engine, the RX-8 was available as a.
The RX-8 can trace its lineage directly back to 1978 with the RX-7, while the rotary was first used in the Cosmo in 1967. The single-cylinder rotary engine will make a return to the Mazda range, as a range extender for a forthcoming electric vehicle.
Stage 1 Heavy Duty - 454NM of torque. Stage 2 Organic LUK material - 478NM of torque. Stage 3 Cushion Ceramic - 686NM of torque. Stage 4 Ceramic Button - 756NM of torque. You Will receive a clutch kit including.
Billet Chromoly Lightened Flywheel (4.9Kg). Billet Chromoly Counter weight (anodised). Heavy duty Clutch Pressure Plate Cover assembly. Heavy Duty Organic Clutch plate.
BLUSTEELE HEAVY DUTY CLUTCH KIT ADVANTAGES. This is a Heavy Duty Clutch kit designed and manufactured to exceed the original clutch system installed as Original Equipment. EACH COMPONENT HAS BEEN THOROUGHLY TESTED AND DEVELOPED TO PROVIDE A QUALITY ASSURED. Replacement part that will meet or exceed the requirements of an original vehicle.
We know you're keen to receive your order as quickly as possible. We take care to pack every item securely to so it reaches you in brand new condition. Your order will be sent through Australia Post or one of our preferred couriers.
All consignments are fully tracked. And we will do our best to make sure you're happy. Some manufacturers prefer that end users deal directly with them, and others prefer to work through us. And we'll make sure the correct process is followed so the issue can be addressed as quickly as possible for you.
Each product we sell comes with automatic guarantees that cannot be excluded under Australian law. Where items are not received by us in brand new resalable condition, we will return them to you once you pay us the cost of redelivery to do so. Where redelivery costs are not paid within 30 days, we will consider the goods abandoned and may dispose of them without liability.
For exchanges, we will cover the cost of sending a replacement product back to you. The item arrived damaged or missing parts. All orders leave our warehouse in brand new undamaged condition. It is important that you open your order as soon as you get it, and notify us immediately if there is any damage. So we can report it to our insurer, carrier and warehouse.
We've been supplying quality car parts to Australian car owners, enthusiasts and mechanics for over 27 years. With a team of spare parts experts and on-call mechanics we can assist you in working out the correct part for your car.
Subscribe to our newsletter to get the latest news & Updates.