AMC STAGE 1 HEAVY DUTY CLUTCH KIT FITS 2004-2006 MITSUBISHI LANCER 2.0L SOHC jdm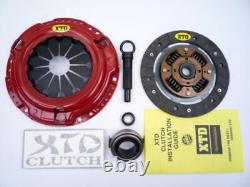 XTD Clutch & Flywheel SPecialist. XTD® STAGE 1 RACING CLUTCH KIT.
This XTD Stage 1 Clutch Kit Includes High Clamp Long Life Pressure plate, XTD Organic Street Disc, Throw out Bearing, Alignment Tool, XTD Clutch Installation Guide & XTD Logo Window Decal. This XTD Pressure plate Holds 30% more HP and Torque Than Stock Pressure Plate and This Pressure plate is made from ductile iron and heat Treated Which is about 30 to 40% Stronger Than Just Stock Cast Iron Pressure plate.
XTD Street Disc is Designed for Smooth Engagement, quiet operation and improved durability using only the best organic, spring center designs. This XTD Stage 1 clutch kit is Great for Just Stock and Mildly Modified Car.
All XTD Racing Clutch kit Requied 500Miles Break-in Period. Pressure Increase 27%/Torque Capacity 200 ft/lbs/Hold 210HP.