Amc Heavy Duty Clutch Kit Fits For 2002-2006 Nissan Altima Se Se-r Maxima 3.5l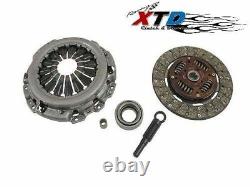 XTD Clutch & Flywheel SPecialist. This is Brand new OEM clutch kit for MAXIMA & ALTIMA 3.5L. This clutch kit contains all the necessary components to do clutch replacement and is the perfect setup for any stock or lightly modified vehicle.
Aimco clutch kit contains only the highest quality components from world's leading OE clutch manufacturers such as Exedy, Valeo, Sachs, Luk, Seco, Aisin/Asco and NKK. Please do not compare our Aimco clutch kit with other inferior clutches or cheap Chinese parts.
This OEM clutch kit comes with XTD HD Pressure plate, Clutch Disc, Throw Out Bearing, Pilot Bearing and Alignemt tool which is Every parts included for clutch replacement. This XTD OEM clutch kit is hold up to 400HP which is perfect clutch set up for just stock to Lightly modified Vehicle. All Aimco OEM clutch kit is certified SFI Certification and Guarantee that all Brand New parts.
Appilcation of XTD Racing Clutch Kit. XTD CLUTCH COMBO KIT INCLUDES. · AIMCO OEM CLUTCH DISC. · AIMCO THROW OUT BEARING.