Act Rigid Street Heavy Duty Clutch Kit For Mitsubishi Evo 03-05 VIII 8 Me2-hdsd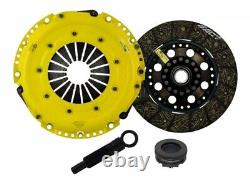 ACT RIGID STREET HEAVY DUTY CLUTCH KIT MITSUBISHI EVO 03-05 VIII 8 ME2-HDSD. ME2-HDSD kit features ACT's most popular Heavy Duty pressure plate. ACT Heavy Duty pressure plates use exclusive diaphragm design to increase clamp load, reduce deflection and maximize clutch life.
All diaphragms endure a four-stage, heat-treating process for unparalleled performance. ACT pressure plates have precision cover stampings to provide rigidity and consistency. ACT Performance street rigid-hub discs feature premium organic materials with high copper content for better heat transfer and steel-backed lining for greater burst strength and durability. The chrome-moly hub is heat-treated for strength and durability. Rivet design and materials are carefully selected for maximum strength. These discs are the minimum weight street disc for faster shifts. ACT's Street rigid-hub discs provide race-proven performance with street manageability. Monoloc is a one-piece, direct replacement or upgrade to the standard, two-piece wedge collar and wire ring featured in pull-type clutches.
The spring tension of the segmented retaining ring is carefully calculated and tested for optimal performance. It provides uniform loading on the bearing and pressure plate to assure proper alignment, regardless of driver influence or vehicle modifications.
Monoloc's hardened chrome-moly steel construction will provide years of service. Light to moderate pedal effort, smooth positive engagement, increased gear rattle, confidence during hard shifts.
Longer friction life, extended by ACT's exclusive diaphragm design, dramatic improvement in release mechanism life, rigid design may increase spline wear. Carefully engineered, precisely assembled, accurately balanced, with premium organic friction materials for heat tolerance and reduced fade, major improvement in release mechanism.
Recommended for street and race use. 100% clamp load tested and dynamically computer balanced for smooth high RPM reliability, includes ACT's patented Monoloc. Feel: Light to moderate pedal effort, smooth positive engagement, increased gear rattle, confidence during hard shifts.
Recommended Use: Recommended for street and race use. What's Included in this kit? 3000311 - Perf Street Rigid Disc. MB018 - P/PL-M Heavy Duty.
Torque Capacity: 691 Nm (510 ft/lbs) = 41% over standard/OE. Disc Type: Rigid Hub Street Disc. Pressure Plate: Heavy Duty Pressure Plate. Our Customer Service team will endevour to resolve any issues. This applies to all orders with us unless.
Products that are ordered in error or that you changed your mind on will be entitled to a credit note at our discretion. This does not affect your statutory rights.